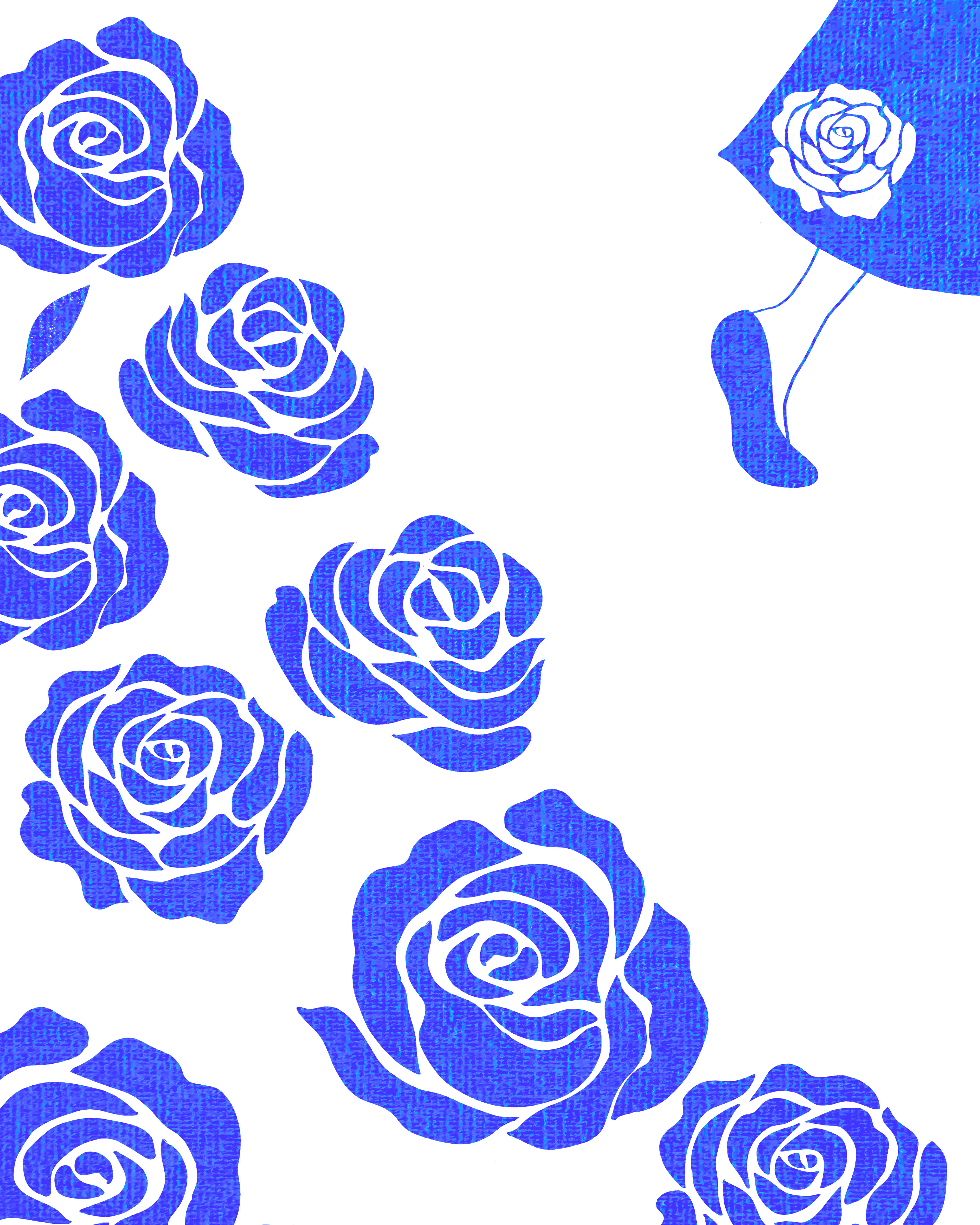 Originally, rose does not have a gene that makes blue pigment. For that reason, there is a flower of language, "Impossible", for blue roses. 
In 1990, Suntory and An Australian company undertook the development of blue roses using biotechnology. And after 10 years passed, they succeeded in creating a blue rose named "Applause".The flower language of "Applause" which was born in this way is "Dreams come true." And they said they named it with the desire to deliver the joy that fulfilled your dream, the courage to head towards a new dream, the cheers to that feeling to many people. (Reference URL http://www.suntorybluerose.com/) 
 In this illustration, I wanted to express a first step towards a new dream and the hope and pleasure there,I placed blue roses as if blessing the person. 
Thank you for visiting. I hope that a wonderful future is waiting for you.
もともと、青い色素を作る遺伝子が、バラにはありません。そのため、青いバラには「不可能」という花言葉があります。

そうした中、1990年に、サントリーとオーストラリアの会社は、バイオテクノロジーを使用した、青いバラの開発に着手しました。そして、実に10年あまりの歳月を経て、青いバラ「アプローズ」を誕生させることに成功したのです。

こうして誕生した、「アプローズ」の花言葉は、「夢かなう」です。
また、アプローズというのは喝采という意味ですが、夢をかなえた喜び、新しい夢を見つけ、向かっていく勇気、その気持ちへの喝采を多くの人に届けたいという思いで、名付けたそうです。(参考URL http://www.suntorybluerose.com/)
このイラストでは、新しい夢へ踏み出す一歩とそこにある希望、喜びを表現したいと思い、青いバラを、人物を祝福するかのようにちりばめました。

ご訪問ありがとうございます。あなたが一歩を踏み出した先にも、どうか素晴らしい未来が待っていますように。